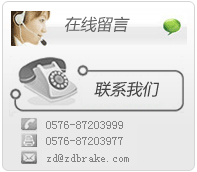 company is located in the Chinese automobile and motorcycle parts production base, China auto parts export base, the East China Sea, the beautiful island of Yuhuan, located in the auto industrial park in Yuhuan County economic development zone. The other Jiangxi Jingdezhen Zhengde brake system of the company is located in Jingdezhen Town Road, specializing in the production of automobile brake, steering knuckle, disc brake, drum brakes, the annual production of 1200000 sets of brake caliper, brake. Domestic and BYD Auto Limited by Share Ltd, South Korea company, Chery Automobile Co. Ltd, FAW Jiabao automotive, Hafei Automobile, Changhe Suzuki Automobile, Liuzhou Wuling Automobile companies such as supporting the long-term. Eight years of export history, mainly sold to foreign markets in North America and europe.

the company was founded in 2001, now has advanced production equipment, outstanding technical staff, perfect testing equipment, first-class management system. Company's existing CNC machining center 52, CNC lathe 45 units, 20 sets of CNC machine, universal milling machine 38, detection equipment coordinate measuring instrument, projectors, universal material testing machine, spectrometer, metallographic analyzer, high and low temperature test machine, salt material testing machine. In 2002 the company passed the ISO9001:2000 quality management system certification, in 2007 July through the TS16949 quality management system certification. Plant covers an area of 60000 square meters, construction area of 28000 square meters, modernization of the company set casting machining production technology integration.

we always take the customer as the center, with "good work, Tak Shing and the" business philosophy, to "explore the first-class management, to create first-class products, provide first-class service" as their responsibility, and actively in accordance with the requirements of customers, and constantly develop new products, as in the past. In the public service, wholeheartedly welcome businessmen to discuss cooperation, create brilliant.